Sample some of our online and downloadable resources for free!
Full breakdown of resources within Oddizzi PREVIEW / DOWNLOAD
VIRTUAL FIELDWORK
Oddizzi's new Going Places area is dedicated to virtual fieldwork experiences.
*Launching Autumn Term 2023* A class trip to a small village in rural North Yorkshire. This virtual fieldwork film will be a great resource to enhance topics on the UK. It could support the requirement in KS1 to study a small area of the UK and for KS2 a region in the UK, such as the Pennines or the Yorkshire Dales. 
KS2 Everest Base Camp Trek – this resource can be used to enhance topics on mountains and is accompanied by a fieldwork journal (Geo-Jotter) for each child to complete.
WEEKLY NEWS PACKS
What's happening in the world this week?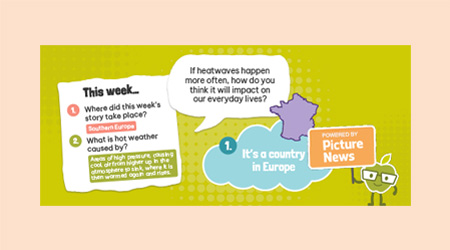 Weekly News Packs designed in partnership with Picture News
Sample News Pack PREVIEW / DOWNLOAD
ODDIZZI PLANNING AND PROGRESSION DOCUMENTS
Oddizzi's Planning Pathways – to help ensure progression of knowledge and skills PREVIEW / DOWNLOAD
Oddizzi's Progression In Vocabulary Document PREVIEW / DOWNLOAD
Oddizzi's Knowledge Organiser Sample – KS2 Rivers PREVIEW / DOWNLOAD
KS1 SAMPLE RESOURCES
KS1 – Hot and Cold Places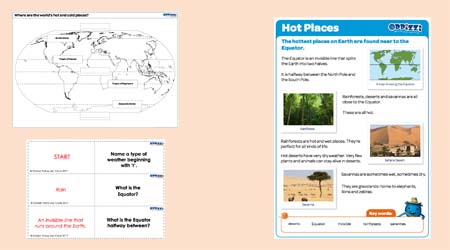 Map: Where in the world's hot and cold places? PREVIEW / DOWNLOAD
Follow Me Cards: Geography vocabulary game – hot and cold PREVIEW / DOWNLOAD
Guided Reading: Hot Places PREVIEW / DOWNLOAD
KS1 – Continents and Oceans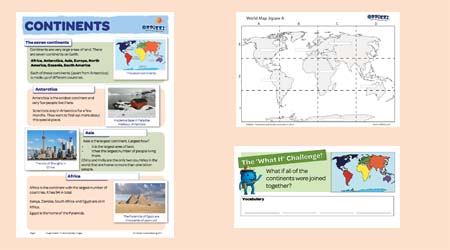 PowerPoint: Continents and Oceans PREVIEW / DOWNLOAD
Guided Reading: Continents PREVIEW / DOWNLOAD
Map: Continents jigsaw activity and sentence strips PREVIEW / DOWNLOAD
What If Challenge (higher order thinking questions): Continents PREVIEW / DOWNLOAD
KS2 SAMPLE RESOURCES
KS2 – The United Kingdom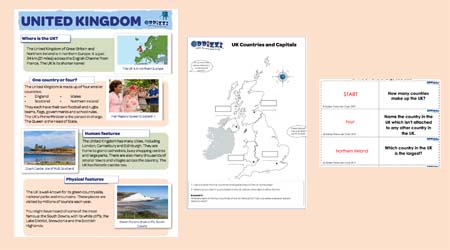 Guided Reading: The United Kingdom PREVIEW / DOWNLOAD
Map: UK countries and capitals PREVIEW / DOWNLOAD
Follow Me Cards: Geography vocabulary game – The UK PREVIEW / DOWNLOAD
KS2 – Rainforests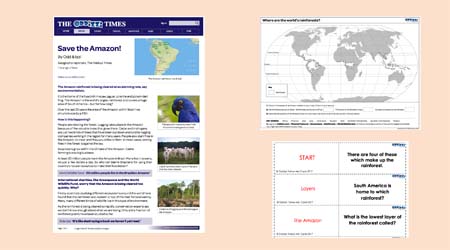 Guided Reading: Save the Amazon PREVIEW / DOWNLOAD
Map: Where are the world's rainforests? PREVIEW / DOWNLOAD
Follow Me Cards: Geography vocabulary game – Rainforests PREVIEW / DOWNLOAD
KS2 – Mountains / Rivers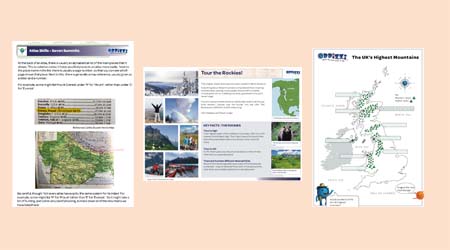 Assessment Paper Lower KS2: Rivers PREVIEW / DOWNLOAD
Atlas Skills: Seven summits PREVIEW / DOWNLOAD
Guided Reading: Tour the Rockies! PREVIEW / DOWNLOAD
Map: The UK's highest mountains PREVIEW / DOWNLOAD
KS2 – Volcanoes / Earthquakes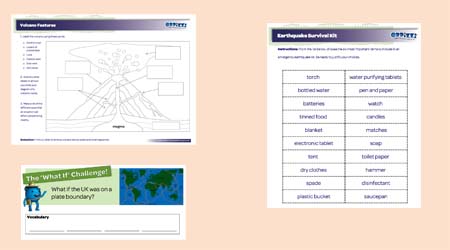 Diagram: Volcano features PREVIEW / DOWNLOAD
Worksheet: Earthquake survival kit PREVIEW / DOWNLOAD
What If Challenge (higher order thinking questions): Earthquakes PREVIEW / DOWNLOAD