EGYPT
Tweet
Egypt is a country in North Africa. Best known for the pyramids and the Nile River which flows through Egypt on its way to the Mediterranean Sea. Most of Egypt's population live along the Nile Valley.
Both the Sahara and the Libyan Desert can be found in Egypt.
Facts about Egypt
Continent: Africa
Capital city: Cairo
Leader of country: Prime Minister: Mohammed Morsi
Major towns: Sharma El Sheik, Alexandria
Population: 84,474,000 people
Size: 384,345 square miles (995,450 square kilometres)
Currency: Egyptian pound (EGP)
Official language: Arabic
Major religion: Islam, Christianity
Life expectancy: 69 years (men), 73 years (women)
Travel Facts about Egypt
Climatic zone: Arid, desert climate
Flight times to Cairo from: London 5 hours, Sydney 19 hours, New York: 12 hours
Handy Phrases to use in Egypt
Hello: Salam
Please: Afak
Thank you: Shukran
Goodbye: Ma'a salama
Yes: Naan
No: La
Famous People from Egypt
Tutankhamun (1341 BC - 1323 BC) Egyptian Pharaoh
Cleopatra VII (69 BC - 30 BC) Ancient Greek Queen and last Pharaoh of Ancient Egypt
Mohamed Al Fayed (1933 -) Businessman
Tutankhamun
Pitta Bread: Round bread with a pocket to add fillings
Ful medammas: Fava beans mashed and served with oil, garlic and other flavours
Kushari: Rice, lentils, chickpeas, macaroni topped with a spicy tomato sauce
Falafel: A ball made from chickpeas of fava beans which are fried and served in a pitta or flat bread. The balls are usually topped with salad and sauces
Animals from Egypt
Parrot Fish
Nile Crocodile
Camel
Caracal (Desert Lynx)
Parrot Fish

Nile Crocodile

Camel
Festivals/Celebrations in Egypt
Sham al-Naseem: First Monday after Coptic Easter, annually
Leylet en Nuktah: Payni 11th (Coptic calendar) annually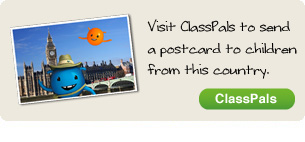 Can you zoom in and find Egypt on the OddPod?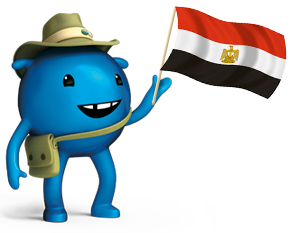 Odd's waving the flag of Egypt. The red represents a period in history when Egypt struggled against the monarchy and the British occupation of the country. The white symbolises the bloodless revolution and the black shows the end of the oppression of the Egyptian people.
Pssst... Secret Facts
Click to unlock!
The Pyramids were used as a burial tomb of the royal family. Pyramids are said to have secret trap doors inside to keep robbers out. It took on average 20 years to build a pyramid.