Teach Primary 2021 Winner – 4 Stars Foundation Category
We are delighted to be 4 star winners in the 2021 Teach Primary foundation category. Judges remarked, "The world really comes to life with this action-packed, high-quality and inspirational resource for pupils of all ages. Oddizzi grants the opportunity for pupils to step outside of their classroom and experience the world at their fingertips creating global citizens and broadening the horizons for young learners. It is a teacher's dream for geography, providing details, engaging lesson plans, topic webs and curriculum mapping, and a range of thorough assessment tools to maintain personalised learning and progress." St John's C of E Primary
BETT Awards 2020 Finalist
We are delighted to announce that Oddizzi has been shortlisted in the 2020 BETT Awards  'Primary Content' category. Thank you to everyone involved in our mission to put 'geography back on the map' in primary schools! Details of all finalists can be found here!
BETT Awards 2016 Winner
We are delighted to announce the Oddizzi has been awarded a prestigious Bett Award in the 'Best Whole Course Subject Curriculum Resource' category.
Oddizzi was also highly commended in the Primary Digital Content (rest of the curriculum) category.
The judges felt that Oddizzi matched the curriculum well and was both accessible and inclusive. Its ability to track progression and achievement with a consideration for e-safety led the judges to score this resource a nine out of 10.
Jenny Cooke, Founder at Oddizzi said, "We are thrilled to receive a BETT Award for Best Whole Course Subject Curriculum resource and a Highly Commended for Primary Digital Content. We are passionate about delivering high quality and engaging geography resources to primary teachers and children and hope that this industry recognition helps to raise the profile of geography within primary schools.
GESS Award 2014 Winner
The Gulf Educational Supplies and Solutions Show is the leading education conference event in the Middle East. Its awards recognise outstanding educators and providers of education solutions across the globe.
Educators in the Gulf regions recognised the value Oddizzi offers to its primary audience and the positive impact our resources make.
'New Boy' Award (Technology) Education Investor – 2012
The Education Investor Awards 'promote excellence and recognise innovation in the education sector, a sector that is acknowledged for its global technology leadership'.
Oddizzi was awarded the Education Investor 'New Boy' Award for its contribution to the teaching and learning of geography within the primary classroom.
Digital Education Entrepreneur of the Year Winner – 2012
The Digital Entrepreneur of the Year awards honour the pioneers of the internet. Oddizzi was thrilled to be recognised by such a well-known organisation for our work within education.
BETT Award – Primary Digital Content – 2012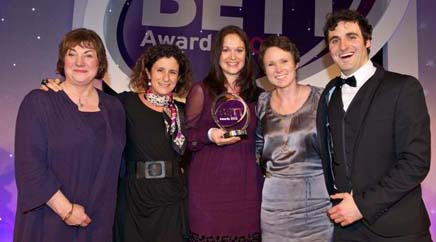 The BETT awards are a celebration of creativity and innovation in educational technology and Europe's most prestigious awards in this field.
The judges said:
'This is a cost-effective solution to exploring global issues and develop geographical skills. It has many excellent features that bring together relevant and up-to-date information, games, live newsfeeds and high-quality graphics to support classroom teaching and pupils' independent research.'