INDIA – TRANSPORT
Tweet
The main methods of travel in India are similar to those in other countries – cars, buses, planes, trains and bicycles.
As the cities are so heavily populated, roads can be very chaotic.
Watch this video of the sights and sounds of roads in Mumbai, can you name all the different types of transport you see?
Black and yellow taxis, auto rickshaws, cycle rickshaws, bicycles, huge trucks and even animals all fight for their space on the roads and India has one of the highest number of road accidents in the world.
It's not uncommon to see cows wandering along the road or sleeping in the streets in India. They really are king of the road and as they are sacred to Hindu's they are given as much respect as people.
Around town, it's common to travel in a three-wheeler auto rickshaw, known as a 'tuk-tuk'. They have a small cabin for the driver and seat for the passengers. When the traffic gets busy, this is a quick way to nip around.
India's rail network criss-crosses the country with over 60,000 kilometres (37,200 miles) of rail tracks and is used by thousands of people every day. It is not unusual for people to often travel long distances by rail or bus with their families and sometimes even their animals!
Watch this video of a train pulling into a station, how is this train different to the ones you travel on?
A train pulling into the station
One of the cheapest and popular modes of transport for many people is the bus. Some buses are overcrowded and uncomfortable but some luxury coaches have beds and air-conditioning. Even in remote areas such as the Himalayas buses transport locals between villages along narrow mountain roads!
Watch this video of a bumpy bus ride along the narrow roads high up in the Himalayas. Don't look down!
A narrow road in the Himalayas
Travelling to different areas of the country by aeroplane is easy to do and many low cost airlines now operate.
Animals are still used as a way to transport items that humans can't carry. For example, strong elephants can be seen loaded up with goods on their backs and camels pulling carts.
Don't forget to check out our great videos on this page!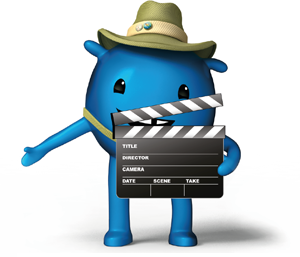 Pssst... Secret Facts
Click to unlock!
Elephants are used in India to transport supplies and people!